Who wants to tell Tucker and other commentators the hard facts? Dominion Eric Coomer Taped Saying To ANTIFA " Don't Worry Trump Won't Win We Fixed That". Tell him to hurry because Dorsey is deleting anything on Coomer off Twitter as fake news.
Eyewitnesses and sworn avadivits are KEY EVIDENCE in a court of law. What part of this does the media not understand? It's obvious now that the commentator fake news has been so brainwashed by their own self glory contracts and paychecks that they have forgotten everything in the real world. They are all in self denial as the truth is smacking them in the face. Others are running, some are hiding and there are some that are already singing like a bird to lessen corruption charges.
According to Justia Patents, (see link above) Coomer has filed a number of patents on behalf of Dominion Voting Systems. He and several other employees filed 12 patents from 2012 to 2014 on behalf of the voting software, the majority of which have to do with "ballot adjudication in voting systems utilizing ballot images," and other systems and measures aimed at increasing security and accuracy around ballot tracking, printing and processing.
Coomer has been a vice president of Dominion Voting Systems since 2010.
Meanwhile Sidney Powell has pulled the curtain back and showing us how corrupt the head of the CIA Gina Haspel, and FBI Director Christopher Wray has been along with someone (she didn't name, yet) in the Department of Defense who had been instructing people like Bernie Sanders, and AOC specifically, how to commit sabotage in their respective offices within the government. She stated they had a couple hundred people on the calls. She wasn't sure if any were arrested yet. Is there no shame in these people? It is clear now that a coup has been organized, funded and emboldened by the Dems and RINO globalists seated in our own high offices.
When someone tweeted Sidney Powell probing as to why President Trump hasn't said anything in the last 17 days, she responded, "He doesn't need to. He already decided to Release the Kraken. He can sit back with popcorn and watch the show."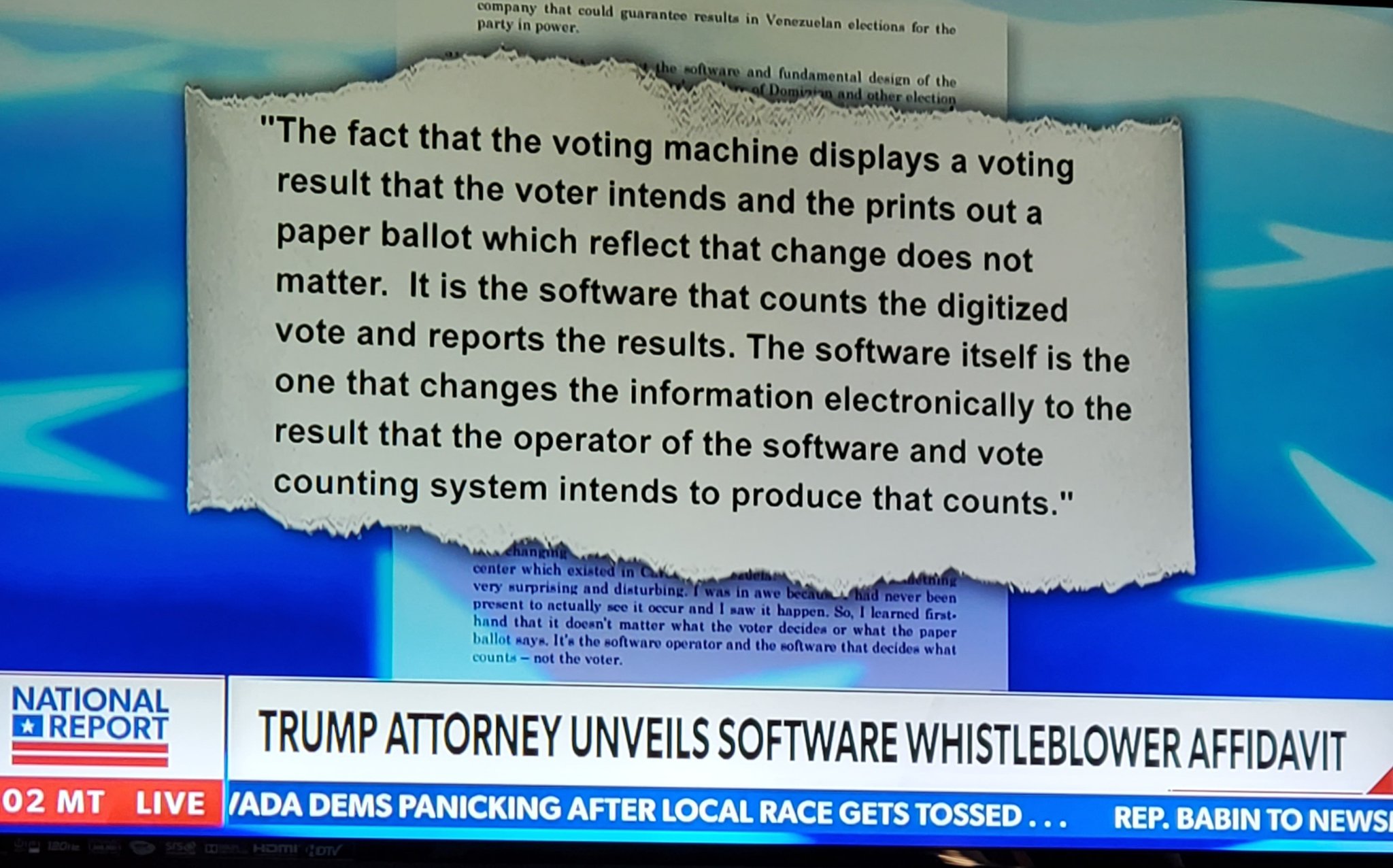 Does anyone really believe Biden and Kamala know nothing of any of this? Does anyone believe Pelosi, Schumer, et al know nothing of any of this?
Does anyone really understand the definition of a coup? Government takeover? Treason?
Dianne Marshall