And it's all out in the open in their instructions on how to operate their equipment. Guess they were operating under the premise of "Gee we didn't intend for people to use it for fraud? Oops. Sorry we didn't know people would use the instruction videos in ways other than intended." That seems to be the method the lawless ones are using, the method of being told to cease versus going to jail, however in this case there is no get out of jail free card. No free pass and lots of serious jail time for voter fraud and for others – attempting to overthrow the government. Which is treason. Just like Sidney Powell said, EVERYONE who has committed fraud will be found and prosecuted.
Just like Sidney Powell stated, they openly show how easy it is to manipulate the voting system.
Fact – anyone can learn how to work the dominion voting system at their instructional website. Please watch the videos and then decide how difficult or easy it is to manipulate voter count. You will be surprised.
https://www.dominionvoting.com/training/index.html
Simply click on the link above and go to the website. Then click on the tutorials to learn how to work Dominion. For those who are in a state mandating a lock down, and for those in some sort of cyber jail or time out from talking to others on social media, this will be a great passtime and one most rewarding. Perhaps it may motivate you to start a blog, or share on Parler, MeWe or another freedom from censorship website?
https://www.dominionvoting.com/training/rtr/index.html
Note that the truth always prevails and nothing hidden shall not be uncovered for the world to see.
https://www.dominionvoting.com/training/icc-movie/index.html
Debbie Georgatos of America Can We Talk? Stated that Dominion was designed to hack elections. Once again – IT WAS DESIGNED TO HACK INTO ELECTIONS AND COMMIT VOTER FRAUD! Click on link to hear the latest about the election fraud.
https://www.youtube.com/watch?v=yDRAsS_CQ6Y https://www.youtube.com/watch?v=yDRAsS_CQ6Y
Other interesting stuff:
ORANGE COUNTY SAYS SCREW TRYANNICAL ORDERS FROM NEWSOM! Governor Newsom's Curfew and "Humans Gathering" Crime Law will be ignored by Sheriff's offices from Orange County, El Dorado County and Sacramento! Orange County, a conservatives in Southern California will not comply.
Orange County Sheriff Don Barnes released a statement Thursday evening and said his department has better things to do than respond to requests about face masks or social gatherings enforcement.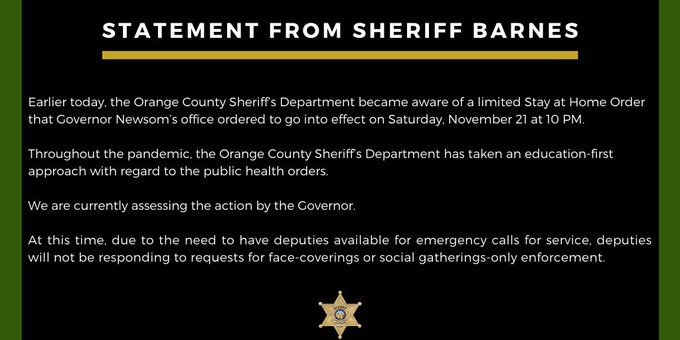 Dianne Marshall